Realtors love interior design and know what works and what doesn't during the home selling process. Purchasing a home with great design means that you and your family will have a home to meet current and future needs.
Here are 10 amazing home design ideas that realtors recommend especially when staging your home for sale.
Home Staging & Design Ideas to Try
If you try these home staging & design ideas you will have the features that appeal to other home buyers when you need to sell.   Remember, most of these things buyers expect at home showings!
#1: Create a Welcoming Entrance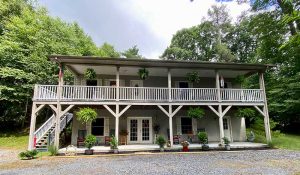 Creating a welcoming entrance that makes your front door noticeable from the street is something realtors always recommend in home design. The entryway and porch are the first things you see!
If your home is peeling around windows, dead plants, or dirt around door handles, you've got some work and a weekend project to do.
Invest in a nice doormat and consider changing out old light fixtures and house numbers. Give your front door a fresh coat of paint, perhaps with a color that pops!
Remove debris, and trim plants and shrubs so there's a clear view of the door. Put flowering plants near the front door to create warmth.
#2: Add a Home Office
Have a nook under the stairs or an under-utilized wall in the guest room? According to NAR results, 40% of realtors report increased demand for a home office after the COVID-19 pandemic.
The Pew Research Center found that 59% of U.S. workers who say their work can mainly be done from home are doing so all or most of the time, as of February 2022. Your home office can be as simple as a small writing desk, a comfortable and stylish chair, and an attractive lamp!
With a new home office, 91% of respondents report a greater desire to be at home.
#3: Convert Basement Space to Living Area
Convert basement space to a Living Area! The NAR report suggests that 31% of consumers who convert a basement to a living area add features and improve livability.
After finishing the project, 83% of respondents report having a greater desire to be at home, and 58% report increased enjoyment. Show your buyers a great way to use that extra space.
#4: Have a Primary Bedroom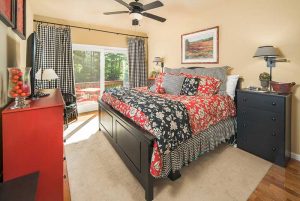 Have a home with 2 or more nondescript bedrooms or bedrooms without an en suite bath? Make sure to design one to show as the Primary Bedroom to buyers.
The primary bedroom should be the largest and most attractive bedroom in the home. It may have the nicest view, be situated in the best place, or have the largest closet.
Keep the palate light. Use luxe bedding and window treatments. If it can work, pack up some clothes, remove bulky furniture pieces like wardrobes and storage units and stage a reading area with a small table or an armchair with a matching ottoman and floor lamp.
#5: Don't be Afraid to Mix Metals!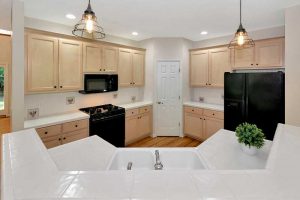 Today designers are mixing metals like brass and dark bronze, brass, and chrome, or brass and nickel in kitchens and baths.
Choose one main finish and one accent and never mix nickel with chrome!
All pulls and knobs should be one type, and all fixtures (such as the sink and bathroom faucets) should be one type.
Lighting is a good place to introduce yet another metal type.
Remember, three is the limit when mixing different metals together!
#6: Keep it Clean
Less is more! So keep things clean by decluttering and removing personal items.
Leave tabletop and other surfaces free of stuff. Gone are the days of staging with set tables, cookbooks, books, etc. 2022 design trends lean more toward minimalism and an overall clean design.
This includes painting any scuffed or dirty walls so that they are fresh, as well as keeping the home impeccably clean – my favorite interior design idea! But, this is just a part of regular home maintenance that helps maintain your home's property value.
#7: Use Color
Color is making a comeback and the days of HGTV stark white kitchens and gray walls are over. You will see splashes of color in backsplash tiles, accent walls, and even ceilings.
Choose soothing color accents like blues, greens, or blush.
Carry that color theme throughout the home with pillows, rugs, or accessories.
#8: Try Luxury Vinyl Flooring
Luxury Vinyl Flooring is a stylish yet economical alternative to hardwood or tile floors. Try choosing an elegant style and plush underlayer.
Buyers will appreciate the look of Luxury Vinyl and its low maintenance, warmness, and softness on the feet. You can find wide plank and hand scraped varieties that most resemble wood and will stand the test of time, children and pets.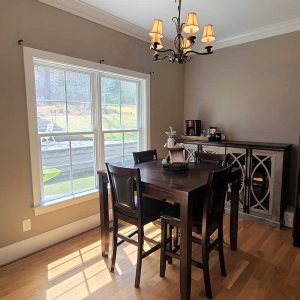 #9: Install Smart Appliances
If you're wondering, realtors recommend installing smart or voice-controlled appliances. The choices are endless for smart switches, smart plugs, bulbs, wifi-enabled thermostats, appliances, etc. and many are now voice-controlled through Alexa or Siri.
Security cameras, door locks, and thermostats, among others, can now be controlled remotely or through voice assistants. Imagine turning on your shower and the water being warm and ready before you step into the bathroom!
Buyers will appreciate not only the upgrades but also your overall attention to detail.
#10: Keep it Real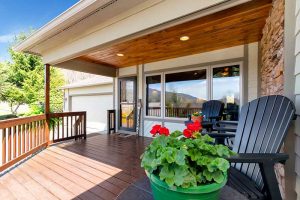 Keep it real. Never fake it with artificial plants, food, props, and décor.
This means no champagne glasses on the tub. No fake flowers or plants, especially not outdoors! (yes, we've all seen this and it's horrifying). No stale cookies beside dirty mugs on the living room side table. Fakeness distracts buyers from your home's real features.
An experienced realtor has seen it all, has developed a respect for proper home design, and knows what design and staging features will work to sell your home. Contact your 828 Realtor today for more tips on preparing and marketing your home to SELL!