An inviting front entrance can make all the difference in your home's curb appeal. Here's how you can create a welcoming front porch with 11 essential elements to make your guests feel at home before they even step inside.
Take a Step Back
Before creating your front porch, you need to take a step back. What does your front entrance look like to a guest walking in?
Does the landscaping need some TLC like mowing the lawn or blowing away leaves? Maybe you need to sweep away a few layers of dust from the porch itself.
By taking a step back from your porch, you can see the first-time impressions visitors will have from seeing your home. If you are trying to sell your home, improving the front porch is a good place for sellers to start updating their space.
Here are 11 essentials you will need to create your own welcoming front porch.
#1: Update the Door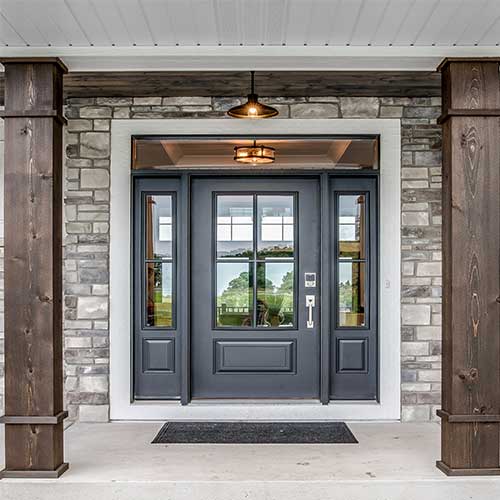 The door is THE focal point of your porch! Having a dirty door or faulty knobs or locks could make visitors apprehensive about what is beyond the door.
If you can't update the entire doorway, a fresh coat of paint or stain can give it a fresh, new look.
Plus door updates can be an easy afternoon or weekend project to boost home value.
Go with a flashy color to make a great bold statement!
#2: Add a Pair of Chairs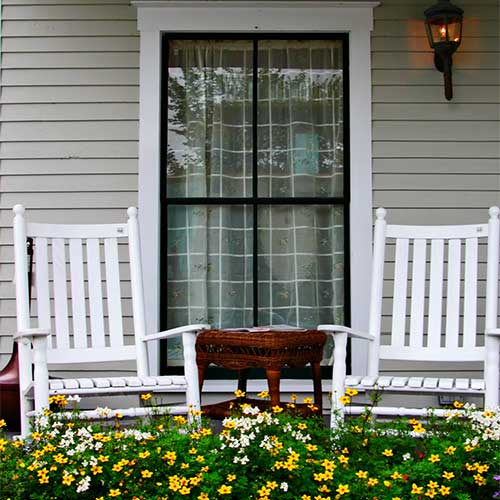 As we say in the mountains "Pull up a chair and sit a spell!"
A pair of chairs on your porch is not only inviting, but it adds a comfortable way to enjoy your porch.
Outdoor living is super important in the NC mountains. Up here in the North Carolina High Country, it is hard to find a porch without a rocking chair or Adirondak chair set.
#3: Use an Accent Table
If everything sat on the floor of your porch, things would look cluttered fast!
An accent table is a simple way to elevate and create depth in your porch decor. Luckily, North Carolina-made furniture is easy to find here, so finding the perfect matching table should not be a hard task!
#4: Refresh House Numbers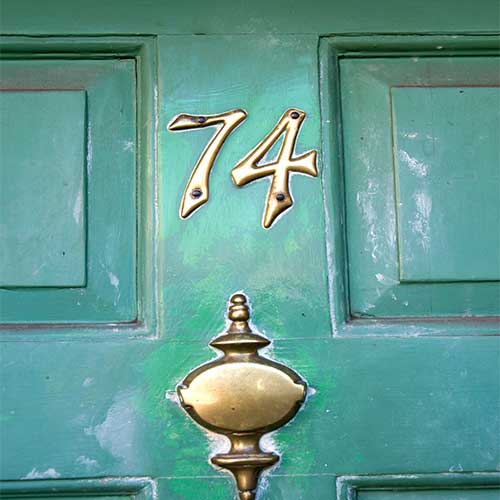 There are so many options when it comes to updating your house numbers!
The one thing we do know for sure, the "basic" reflect numbers are definitely 'out.'
From font, size, and color- your address numbers can set the tone for your porch.
#5: Test Outdoor & Entry Lighting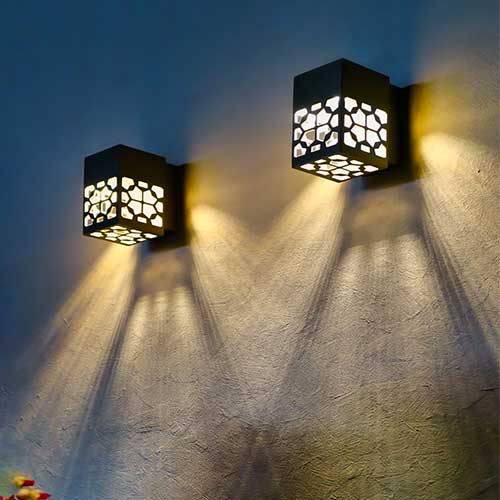 A well-illuminated space is an inviting space! No one likes to fumble around in the dark, so test your outdoor entry lighting to make sure it works in the first place.
Like address numbers, different lighting can make a 'night and day' difference in how your porch welcomes your visitors.
#6: Lay Down a Doormat (or 2!)
Laying down a doormat (or two) is a great way to make a statement while also keeping your house clean.
Door mats can come with fun messages that will always make your guests (or yourself) giggle. What is more welcoming than laughter?
Door mats can also be elegant, colorful, or simple if you are not into kitchy quotes.
#7: Install a Smart Lock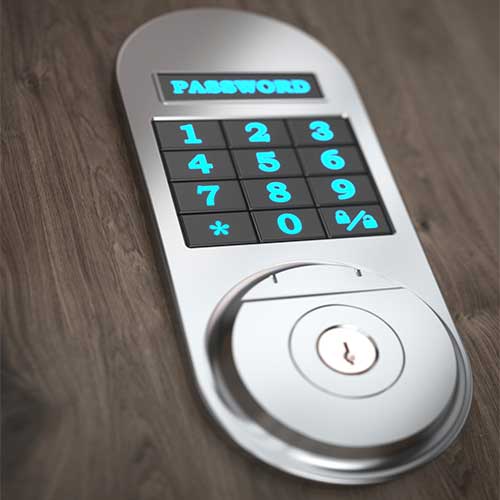 Elevate your porch space with some tech, such as a smart lock. This quick update will add a level of poshness and security to your entryway- plus alleviate stress!
Did you forget your keys or leave the doors unlocked when you left this morning? No worries!
Most smart lock devices have keypads or connect to a phone app to lock or unlock your house without keys.
#8: Planters & Florals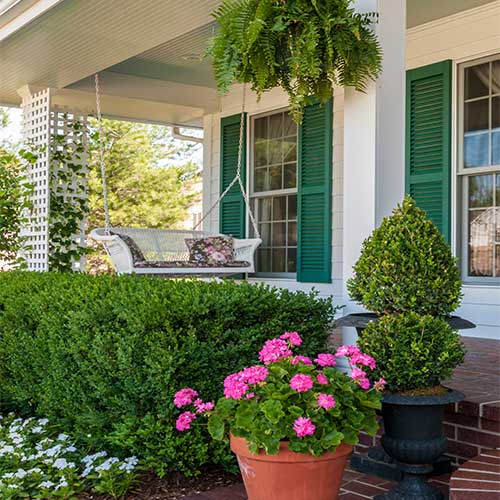 Planters and flowers are a beautiful, seasonal way to keep your porch spruced up!
Floral arrangements require more love and attention, but they keep your porch inviting throughout the year.
#9: Color Coordinate & Accessorize
To simplify and make your space cohesive, try to color coordinate the area with similar tones and accessorize with fun accents like windchimes or signs.
#10: Hang a Wreath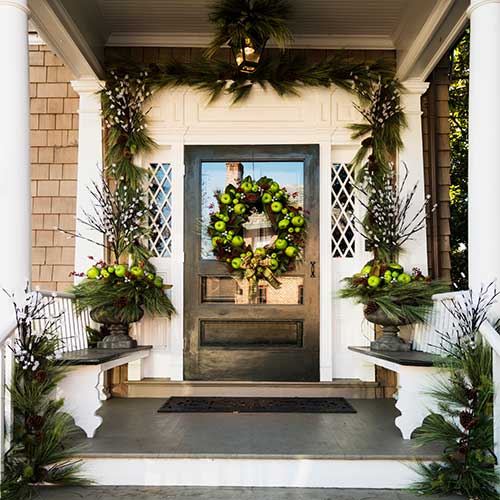 Need another way to color and accessorize your porch? Hang a wreath!
Wreaths aren't just for Christmas! Not only are they fun to make, but a wreath can spice up your porch's focal point, the door!
We suggest getting a plain basket-style wreath that you can dress up with each season or for special occasions.
#11: Change Decor with the Seasons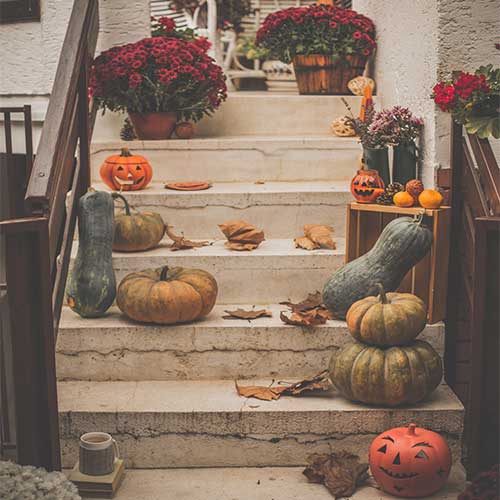 Changing your decor with the seasons simplifies the maintenance process for your porch.
With the changing of the season, and thus your decor, you are able to make sure things stay in working order and are clean. You can use our spring cleaning guide to help you get started.
Though I will admit, I am bad for going all out for Halloween and being skimpy for Christmas- nobody wants to be greeted with a rotten old jack-o-lantern!
Transition into the Entry Way
The front porch should transition into the entryway of your home.
When you create a welcoming front porch be sure to let that same beautiful personality shine from the outside as you do in!