When you move into a new house, designing and furnishing the interior is one of the most fun aspects of building a home. People across the globe agree. When you need new furnishings for your home, you shop for North Carolina furniture.
There are plenty of rustic home furnishing options located across the High Country of North Carolina that can help you achieve a rustic, mountain living aesthetic.  We love utilizing the culture and environment around us to create a unique space that comes together just like a puzzle.
Before You Start Shopping
Before you start shopping for North Carolina furniture you need to know what you're working with. Measure and visualize your space. It is best practice to measure spaces and then imagine how you want the space to look before moving stuff in. You also don't want to run the risk of buying furniture that's too big!
Decorating is a creative process. you can bring "inspiration pieces." You can draw inspo from paint samples, wallpaper, statement furniture pieces and or other furniture you definitely want to use. Use the inspiration pieces as a reference when you go to the furniture store.
Download Home Design Apps
Online home design software and apps, such as Planner5D, lets users design and customize their home virtually. Planner5D is 2D/3D advanced and operates on a easy-to-use interface available on computers or mobile devices.
A fun tip: If you're remodeling a room and are unsure what paint color to choose, check the discount paint shelf at your local hardware and paint stores. Most sale sections have a few cans of primer, white paint, or fun color to try that will save you money!
Where to Buy North Carolina Furniture
The High Country of North Carolina is surrounded by two of the largest furniture capitals in the world, Hickory and High Point. Between Lenoir and Hickory there 20 miles of furniture outlets, stores and manufacturers. Some are big and well-know while others are small business.  A short drive down the Appalachian Mountains and you can find some of the most well-made furniture in the world.
The Best Furniture Stores in Hickory, North Carolina
Below are some of the best of furniture stores in Hickory, North Carolina, you can visit to find perfect furnishings for mountain living.
Hickory Furniture Mart
Bernhardt Furniture Outlet
Lindy's Furniture Company
King Hickory Furniture Co.
Watson Furniture & Mattress
This list is just a small portion of what Hickory has to offer in terms of furniture. Having grown up and still living in Hickory, I can assure you that there are some great places to find furniture. My family has worked in the textiles and furniture industry for over 60 years. If you walk into a place like King Hickory Furniture Co., Bernhardt Furniture Outlet or inside the Hickory Furniture Mart, you're going to find high-quality pieces that are designed and built by hard working people in the area.
Budget Friendly Furniture Consignment
If you're working on a budget, there are still plenty of places to visit, like these furniture consignment/budget stores:
The Hickory Tree
The Loft
Lindy's Outlet and Clearance Center
Hudson's Discount Furniture
The Best Furniture Outlets in High Point, North Carolina
High Point, North Carolina, offers some of the premiere furniture outlets home to national and international manufacturers. For decades, the town yields high quality North Carolina furniture. Here are some of our favorite options.
Furnitureland South (The World's Largest Furniture Store)
Stickley Furniture
Baker Furniture
High Point Furniture Sales
The Furniture Capital of the World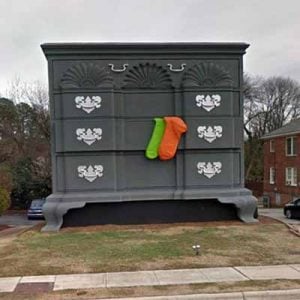 Twice a year the High Point Market features furniture and home decor vendors in a trade show that brings in over 75,000 people. It's no wonder the town is called the Furniture Capital of the World. You can even find the World's Largest Chest of Drawers here!
Rustic Furniture and Home Decor in the High Country of North Carolina
The High Country may not have the same world-renowned reputation of Hickory and High Point when it comes to furniture. There are still some great rustic furniture and home decor finds to behold. You can find plenty of cabin-themed stores and antique furniture outlets nestled away in Boone, Blowing Rock, or Banner Elk, to fulfill your mountain lifestyle.
Francisco Rustic Furniture
The Cabin Store, Blowing Rock & Boone
Blowing Rock Home Source
Blowing Rock Furniture Gallery
Gilded Age Antiques, Banner Elk
My Mountain Home, Blowing Rock
Finding the Best Furniture in NC
No matter where you are in North Carolina there is probably a top selling furniture city near you. When it comes to furnishing your home, make it your own! There are so many choices to make and it's such a fun process.
The way you decorate your Airbnb, vacation home, or primary residence can showcase your style. It's even more important when you are staging your home to prepare for the selling process. Whether you go rustic or modern in design, remember that you can stop by any of these locations to find the best furniture in the state of North Carolina.