Do you want to make your home look more expensive before listing your home for sale on the market? Maybe you are looking to amplify your space and enjoy spending more time at home.
From annual upkeep to staging your home, there are multiple things you do to achieve this goal. Below are some realtor recommended tips for making your home look like a picture from Southern Living Magazine.
#1: Regular Home Maintenance

One of the biggest items I will stress for increasing the value of your home is doing regular home maintenance. After experiencing home inspection after inspection, the biggest issues that seem to come up are issues that could be avoided by the homeowner.
Putting the time, money, and elbow grease into maintaining a property is key to an expensive-looking home. While it will cost you to keep your home maintained throughout your ownership, it will pay off in the long run when you go to sell your house with big-ticket items in working order. This is just one way to maintain your home's value.
#2: Declutter: It's Free!

Maintenance may cost you money, but decluttering is free! You don't necessarily have to live like a minimalist to live clutter-free.
The goal is to make a "home" for every item in a room. Decluttering will help you in the end when it's time to pack up and move.
#3: Interior Decor & Update Fixtures

Interior decor and updated fixtures can go a long way in making a old house look newer, and more expensive. Start by painting the interior walls a neutral color.
Then take a visit to your local TJ Maxx, HomeGoods, or Lowe's. You can find luxuious items inexpensive price points such as:
Rugs
Lamps
Light fixtures
Throw pillows for beds and sofas
Upgraded hardware for cabinets and doors
Window treatments
#4: Make the Entry Welcoming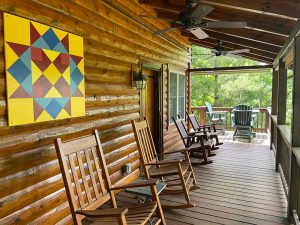 As for the exterior, make the entry to your home welcoming. You can add flowers in planters or paint the front door a bold new color.
Do not limit yourself to the porch. Give your landscape a fresh look with new mulch and add some plants.
#5: Have an Outdoor Living Space

Re-stain your deck and posts, and add some outdoor furniture to a back deck or front porch. Outdoor living spaces are a popular trend in the housing market and demand is on the rise.
Dedicating a space outside to connect with nature does not have to be expensive. Grab a few lawn chairs from Walmart and you have yourself a yard to enjoy!
Any or all of these can help make your house look fresh, and welcoming, and give it a more expensive feel. While there are other weekend projects you can do to make your home look more expensive, these are the ones I'd recommend.
You do not always have to spend a lot of money to make your home feel like it cost a million bucks! For more tips, contact an 828 Real Estate agent and we will gladly help.