When you come to the High Country of North Carolina to purchase a Resort or Second Home, Vacation, or Investment Rental Property, you'll need to know what the "hot" rental areas are. You'll also need to work with a Resort and Second Property Specialist (RSPS), like Corrine Loucks to help you navigate the unique vacation, rental, and second home housing market.
What is an RSPS Realtor?
RSPS Realtors work with buyers and sellers in second home, resort, recreational, and vacation destinations. The High Country of North Carolina requires an in-depth understanding of the local market, vacation and second home tax issues, the ins and outs of real estate investments, and local and state regulatory matters.
Resort and Second Home Specialists can also help answer important questions for second home buyers such as:
What type of properties rent and what doesn't?
What is the potential rental income projection for each property?
Does the property have mandatory HOA memberships?
How should the property be furnished and what amenities are the renters looking for?
How much are taxes, insurance, property management fees, etc.
How will overall costs play into my overall revenue?
What is the current market and what are the risks?
Many communities in and around Boone have some form of rental housing regulations. More townships are rushing to implement ordinances in response to the boom in short-term rental markets.
A Resort and Second-Home Property Specialist understands the implications of rental home regulations in Boone and can advocate for clients throughout the buying and selling process
Housing Markets for Primary Residences and Vacation Properties are Different
The resort, vacation, and second home markets differ in significant ways from the primary residential housing market. Buyers' interests in vacation homes range from small rustic cabins to luxury properties.
Rather than specific wants and needs, second home and resort property interests can range from small 1 bedroom ski slope condos to luxury Adirondack style mountain resort homes.
Weekend getaways and future retirement homes have income potential and operate in a specialized market that includes international, investment, and retirement clientele. Sometimes RSPS clients are well versed in investing and 1031 exchanges.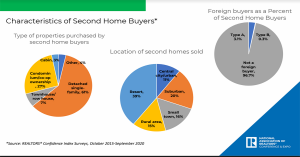 Work with a Realtor to Navigate the Vacation/Rental Home Market
Buyers come from near and far and include families, retirees, investors, and international clientele. It's important that this wide range of buyers work with a Realtor® who is experienced in resort and second-home properties and transactions.
Buyers and sellers in this sector of the housing market need to work with a Realtor® who is familiar with the lifestyle and recreational aspects of their market, as well as rental potential and tax ramifications of the market and individual properties. RSPS Realtors can also help with buying a home unseen if you are interested in a property you cannot travel to see immediately.
Here in the High Country, it is important for your agent to have extensive knowledge of the different areas, local laws and rental regulations for each area, close relationships with the top vacation rental/property management companies, and an excellent grasp of rental potential and projections for each neighborhood and type of property.
his type of real estate industry knowledge comes with years of experience working with Resort and Second Home, Vacation Home, and Investment properties. Seek an agent with client experience as well as additional education in this area. Realtors® who have obtained the Resort and Second Home Certification (RSHS) have gone the extra mile in educating themselves even further as specialists in buying and selling resort and second home properties.
Buying a Second Home in 2022
2022 is seeing a huge boom in buyers purchasing a second home. Increased demand for "getting away from it all" during the pandemic, historically low mortgage rates, and increasing desirability and affordability of owning vacation homes led to an influx of individuals who were in-market and ready to buy.
Buying a second home will continue to trend and the abnormally hot housing market will too. Newfound ability to work from home means buyers can spend more time enjoying their vacation homes.
Demand for Resort and Second Homes has grown up to 77% from pre-pandemic levels as of December 2021, in the High Country according to Redfin, a National Real Estate brokerage and news source. Purchasing a vacation home or second home has become the rage since much of the population is now able to work remotely and mortgage rates are still relatively low.
While nontraditional destinations are also seeing a surge of second-home sales, think Winston Salem or Greensboro, NC, the Mountains, and the coast are still the most desirable spots.
Why the Second Home Market is Booming
"The vacation-home market has boomed over the past year and is not likely to slow any time soon, even as the rest of the housing market starts to cool," Lawrence Yun, chief economist for the National Association of REALTORS®, told The Escape Home, a newsletter for second-home owners.
Yun goes on to describe the 2022 market as cooling due to many homebuyers, especially first-timers, being priced out of the market. In Watauga County alone, the average sales price of a single-family home has risen to $549,000 – a 22.5% increase over 2020. Condos/townhomes have risen to $365,000 average sales price- a 21% increase over 2020.
Rental prices for vacation homes will likely continue to rise too, Yun said.
Vacation Home Sales in the High Country of North Carolina
Today, the National Association of Realtors (NAR) reports that vacation home sales are outperforming total existing-home sales. NAR has identified a county as a vacation home county if at least 20% of the housing stock is for seasonal use.
Here in the NC High Country, vacation home county percentages are reported as follows:
Alleghany: 31.3 %
Ashe: 24.3%
Avery: 40.5%
Watauga: 30.4%
Sales of homes intended for vacation use rose 44% in the three months of July-September 2020, compared to the same period last year, according to NAR. In comparison, total existing-home sales during July-September rose 13% year-over-year.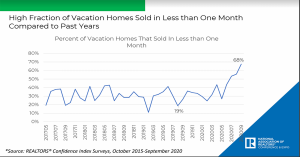 Find a Resort Specialist in the High Country of NC
When you look for a Realtor in the NC High Country, consider a seasoned Realtor like Corrinne, who has proven experience and education in the matters that are important to your real estate purchasing, selling, and investing success.
As a real estate investor, Corrinne Loucks first obtained her California Real Estate License in San Diego in 1998. Earning her license was a tactic to gain a better understanding of the investor markets, have firsthand access to opportunities, and negotiate the commissions on her properties.
When she moved back to the east coast, Corrinne chose the Boone area of North Carolina, a previous favorite vacation destination of hers. It came naturally to obtain her North Carolina Real Estate license when she moved here in 2003 and Corrinne has been successfully helping investor and residential clients ever since.
Corrinne also holds other real estate designations such as GRI – Graduate of the Realtor Institute, ABR – Accredited Buyer's Agent and she is also a Professional Stager with the Association of Professional Stagers.
There's so much to consider and finding the right High Country Realtor® with the level of experience and expertise in this area is key! Let the Realtors® at 828 Real Estate help you decipher the market and find the perfect property for you and your specific needs!