If you are planning to build your dream home in the High Country, you will need to know how to find a lot for mountain homesite selection. There is a wide range of things to consider before buying North Carolina mountain land. The first and most important is looking for a suitable lot.
Here is how you can choose the perfect lot for your mountain home with actionable steps for site planning.
Site Planning
Home size and type will be the first thing you need to determine because they will guide the land search most. Next, you will have to decide what are your non-negotiable outdoor amenities. Finally, you can go look at all the ones that have made it to this point in your search and walk them to decide which is best.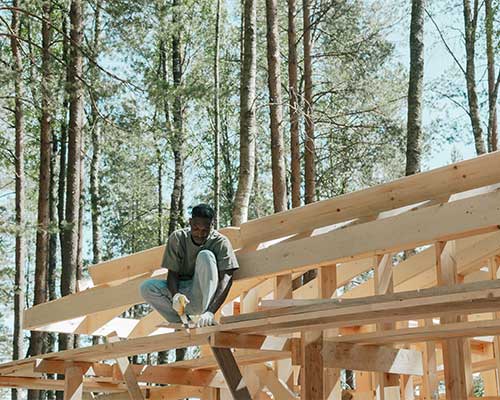 Select a Mountain Community
Once you have decided on the style of home you will build you can narrow down and select a mountain community that works best for you. Some choices in home styles may not match architectural guidelines in certain HOA's/POA's. You will want to count land in these areas out of your search.
The size of the home can also be a sticking point if you decide to build in a community that has a square footage minimum. If these restrictions and limitations do not match your ideal home, then you can look at unrestricted land which is a little rare in the High Country of North Carolina.
For more specifics selecting a community:
Consider a Realtor
Having figured out the home type and style and the land uses that are desirable for you, you may want to start looking for a realtor that can search for available land that meets your criteria. Let your realtor know if you want views over water features or privacy and other things that can help narrow the property search.
Proximity to hospitals, schools, and grocery stores is also something to think about before purchasing land in a rural locations. Being tucked away can be nice but being close to town has its benefits.
This also brings zoning and land use into question. Before buying a vacation rental property, make sure your for a short-term rental is allowed may keep your choices limited so always be sure to double-check the local zoning map.
View Building Lots
Once you have a selection of properties that meet your criteria, the process of viewing available building lots begins. Walking the land or doing a drive-by is the best way to get an idea of what the mountain lot is like.
The photos of land listings may not always give a good indication of the topography or soil composition. These factors are extremely important when it comes to breaking ground and the cost associated with the actual construction of the home.
Steep and rocky land is a common story in the High Country of North Carolina. Being aware of the costs and complications associated with building on complex land is always a plus. Another major cost to consider when viewing the lot is trees and shrubbery. Natural landscaping can be cleared off the lot if it is completely wooded, partially wooded, or not yet cleared.

If you use this as a basic guide for what to keep in mind while searching for your lot you can sift out many that would simply not work for you.
There are countless other details that will be specific to your search and outlining as many as possible will get you that much closer to finding your dream mountain lot.