Witnessing the iconic layers of the Blue Ridge Mountains is one of the top reasons people 'pack up and run off to the mountains.' It is a breathtaking sight to see, but don't worry- you won't get out of breath with these 8 North Carolina overlooks, where you can take in the views with no hiking required.
8 NC Mountain Overlooks Without Any Hiking
Stretching almost 500 miles across the mountains, the Blue Ridge Parkway is a "museum of the managed American Countryside.' This public work program created by President Franklin Roosevelt aimed to preserve and make these enchanting views accessible to everyone, regardless of their physical limitations.
Most of the overlooks below are right along the scenic highway, so you can pop in for the view and then head on to the next!
#1: Grandfather Mountain's Stack Rock & Rough Ridge – Linville, NC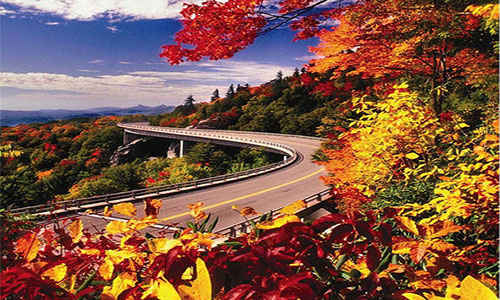 Stunning views of Grandfather Mountain and the Linn Cove Viaduct! This short boardwalk stroll has built-in benches and large boulders to sit and enjoy the panoramic views.
Located at milepost 302, this overlook has a parking area and sits at about 4,500 of elevation.
You can choose to continue to the Rough Ridge Summit, and the views keep getting better!
#2: Wiseman's View – Linville, NC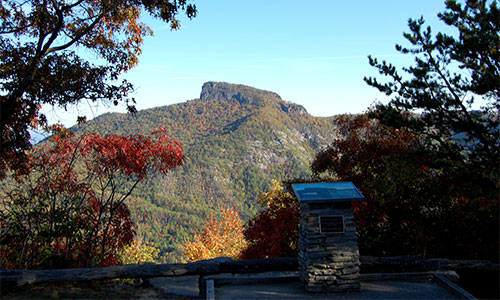 Just a short dip off the Parkway, at milepost 317, this overlook has 2 stone viewing decks, along with a wheelchair-accessible viewing platform.
Enjoy views of Table Rock and Hawksbill, which sit above the deepest gorge in the Eastern side of the USA: Linville Gorge. This view is about 3,400 ft of elevation and faces east- so the afternoons make for great lighting.
At night, however, the eerie light phenomenon known as the Brown Mountain Lights can be seen within the gorge.
#3: Elk Mountain Overlook – Boone, NC
Looking over the Yadkin Valley at milepost 274, the Elk Mountain overlook has almost 360-degree views at 3,795 feet of elevation.
This overlook is a quick stop directly off of the Blue Ridge Parkway. You can sit in your car on those chilly days and still enjoy a great view.
#4: Thunder Hill Overlook – Blowing Rock, NC
View this post on Instagram

One of the most exemplary overlooks in the High Country- especially for sunrises! On one side gaze over the NC Piedmont, then cross the street to see peaceful pastoral views of Boone.
Similar to Elk Mountain, this overlook is directly off the Blue Ridge Parkway with a big parking lot.
This overlook is located at milepost 290 and is just a short drive to Downtown Blowing Rock and Chetola Resort.
#5: Yonahlossee Overlook – Newland, NC
View this post on Instagram
The last overlook before the Linn Cove Viaduct, this small overlook has some long-range views at the south end.
If you can walk, there is a path along the guardrail that will make you feel like you are on top of the world! This overlook sits at milepost 303 and at a cool 4,412 ft of elevation.
#6: Raven Rocks Overlook – Blowing Rock, NC
View this post on Instagram
Just a bit North of Thunderhill at milepost 289 is Raven Rock Overlook. Sitting up above the Parkway, this overlook has a parking lot and large boulders that are easy to climb.
Opposite its neighboring overlook, Raven Rocks are great for sunsets as it gazes out over Boone and Tweetsie Railroad.
#7: Price Lake Overlook – Blowing Rock
View this post on Instagram
One of the largest overlooks, this highly visited parkway stop has a stunning view of Grandfather Mountain and of course, Julian Price Lake.
This 47-acre lake offers parking, hiking, camping, fishing, and canoe rentals to go out on the lake.
Located at milepost 297, Price Lake is a great central location to Moses Cone Visitor center, Grandfather mountain, and Blowing Rock.
#8: Mt. Mitchell Overlook
View this post on Instagram
The highest peak east of the Mississippi and named for geologist Elisha Mitchell, Mount Mitchell sits at 6,684 ft of elevation.
Access via the Blue Ridge Parkway at milepost 349.9 this overlook has 360-degree views from its famed observation deck.
Accessible Blue Ridge Parkway Roadside Overlooks
We are so fortunate to have so many accessible outdoor adventures in the High Country of North Carolina. The roadside overlooks and parks of the Blue Ridge Parkway are great for every age and are probably one of the reasons our area was named one of the best places to retire.
If you are considering finding a place to retire or start a family with an incredible view, 828 Real Estate is eager to help. 828 Real Estate can find you a view that will make you say "wow!"