Just over yonder and a little further up the mountain from Boone is the cozy little village known as Blowing Rock. This 3-mile wide town is mostly known for its natural rock formation, THE Blowing Rock.
The History of Blowing Rock
Blowing Rock goes down in North Carolina history as one of the state's oldest tourist attractions. The town is a cultural hub for fine dining, arts, and music.
Founded in 1889, with only a permanent population of 300 residents, the area immediately became a resort location for the South East elite. Many people retreat to Blowing Rock to enjoy layered Blue Ridge Mountain views, superb dining, and other outdoor activities.
If you are looking for a place to stay in Blowing Rock, you might have slim picking on Air BnB and VRBO. Many of the neighborhoods closest to Downtown Blowing Rock are legacy homes, being in families for generations. There are many nearby condos, resorts, and small inns in the surrounding area, such as Chetola Resort, The Manor, and The Hellbender Bed & Beverage.
A Year-Round Getaway
Resting at approximately 3,600 feet of elevation, Blowing Rock is a great getaway location year-round.
Winter provides opportunities for skiing and tubing, with Appalachian Ski Mountain located between Blowing Rock and Boone. Spring is a wonderful time of year for hiking as the dogwood blossoms highlight the mountainsides of the Blue Ridge Parkway and Moses Cone Manor. Summer is packed full of adventure from swimming in Blowing Rock pool, Symphony by the Lake, and seeing the artist in residences at the Blowing Rock Art and History Museum.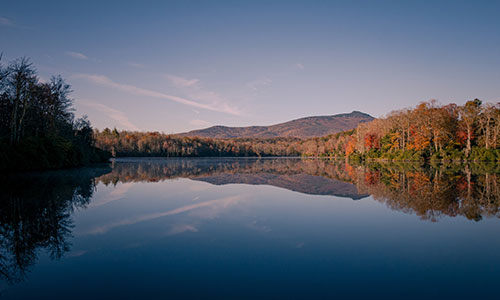 However, Fall might be the best time for Blowing Rock. In the autumn months, the Blue Ridge Mountains are surrounded by vibrant autumn colors, you can enjoy apple picking and pumpkin patches, then s'mores by the campfire at Chetola resort.
A Day in Blowing Rock
If you are looking for the perfect day in Blowing Rock, be prepared to be outdoors! We love to get outside and enjoy the finer things in life here.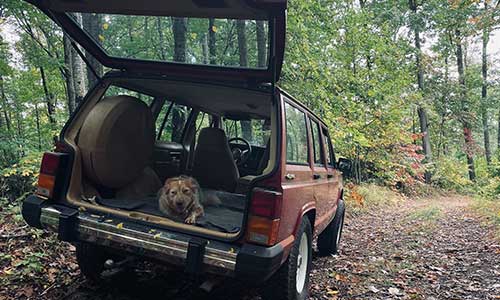 Use this Guide to a Day in Blowing Rock to help plan your day here!
Stop #1: Breakfast at Sunny Rock Eggs & Things
Starting with breakfast Sunny Rock Eggs & Things, this cute family-owned shop has been visited by many NC heroes such as the Carolina Panther's Luke Kuechly.
This breakfast spot serves soul-warming Southern favorites like loaded grits and buttered biscuits.
View this post on Instagram
Stop #2: A Walk to Trout Lake & Moses Cone Manor
After breakfast, walk a few miles down the road to Trout Lake. At the lake, there is a cute little park with hiking trails. If horses are your thing, then feel free to bring your equestrian friends on this trail with you!
You can pick between a quick trot around Trout Lake or a larger 5-mile trek to the famed Moses Cone Manor. One of the original funding members to build (what would become) Appalachian State University made his home here.
The Cone Manor is filled with Appalachian Heritage. During the summer months, a featured artist is in residence.
Stop #3: Lunch at Speckled Trout
Kicking off the afternoon with lunch at The Speckled Trout. This restaurant is a nice light bite with cool pints.
View this post on Instagram
With outdoor seating and small music duos, this tasty venue has a variety of flavors highlighting one of NC's most favored meals, the trout. Each meal can be paired greatly with a wide range of brews and wine.
If you stop here, you must try their smoked trout deviled eggs!
Stop #4: Shopping Along the Strip
After you've dined at The Speckled Trout, it's time to walk off lunch with a nice leisurely stroll for shopping in Downtown Blowing Rock. If you get tired, you can take a break for some people to watch at the park located in the center of town.
There is a variety of home decor and upscale clothing shops along the strip. You must be sure to check out NEACO for fun and funky home decor and souvenirs.
Stop #5: Dinner at The Best Cellar
In the evening, if you still have room for food, The Best Cellar Restaurant is an upscale dining establishment that will make your tastebuds feel like they are on cloud nine. With melt in your mouth veal scaloppine or roasted half duckling, it makes a romantic date night or Valentine's Day destination.
However, the real "creme de la creme" is what's in the cellar! Showcased inside are wines, brandy's, and high-end liquor. be sure to have your pallet ready to taste some of the finest sips your lips have ever had.
View this post on Instagram

If you are in town on a Friday night, there is Music on the Lawn in the adjacent gardens, so you can enjoy dinner and show!
Visit Blowing Rock
If you get the opportunity to visit Blowing Rock and spend a day exploring the history and breathtaking scenery, take it! Blowing Rock brings thousands of travelers to the High Country of North Carolina, some of which go on to make this place their home.
Find out if you're cut out for rural High Country living in Blowing Rock! When you're ready, rest easy knowing the Agents at 828 Real Estate are there by your side.