When it comes to selling your home, you want to make the most money possible. Updating and improving certain things in your home will help you get the most resale value.
Renovation Projects with the Most ROI
The majority of buyers want an updated, move-in-ready home. Below is a list of 7 home renovation projects with the most return on investment (ROI) that also appeal to buyers.
#1: Kitchen Remodels
If done right, a kitchen remodel will definitely add value to your house. While the cosmetics of the kitchen are important, so are functionality and accessibility.
Whether you're updating the cabinets or appliances or doing a full-on renovation of the layout, flooring, appliances, countertops, you are likely to recoup your investment. Kitchen renovations tend to perform well during home appraisals.
You can also find materials for kitchen remodels that look high quality without the high price.
#2: Update Bathrooms
The next best place to put your money in a home renovation is in bathroom updates. Fixing up the bathroom could be as simple as new light fixtures and paint.
You can make it a full renovation by adding new flooring, upgrading the vanity and sink, replacing the plumbing and toilet, or a brand new shower.
Again, bathrooms renovations do not have to cost a fortune, but it is an ideal place for you to put some money.
#3: Add Curb Appeal to the Exterior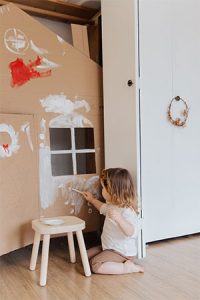 Because first impressions are so important, adding curb appeal and updating the exterior of your house is another project that adds value.
Outside projects could be as easy as power washing the house and decks, adding a fresh coat of paint, or adding some landscaping.
If you live in an area with a lot of moisture, you may need to replace some siding.
Exterior flaws could be an issue you might have to fix down the line after a home inspection during the due diligence process. You might as well be proactive and do it beforehand!
#4: Replace the HVAC System
One thing homebuyers don't want to do is replace a dated HVAC system. If you install a new system to your home beforehand, you will not have any issues come home inspection time.
Since a home's heating and air conditioning is a major part of the home upgrading the system is something you want to maintain and keep up to date. Investing in a new system can be costly so it can add a great deal of value to any home.
#5: Install New Windows
While buyers might expect to buy a house with working windows, that is not always the case. If window frames are rotting and appear old, replacing them is a must-do.
Windows come in different colors and windowpane options. Replacing windows can freshen up the exterior of your home.
If old windows were drafty a new install can help your home be more energy-efficient and cut down on the monthly cost of heating and electric bills. With sustainable development being such a huge part of life in the High Country, this is a great project to consider.
#6: Consider a New Roof
Are your shingles buckling, curling, or turning a different color? If so, it might be time to replace your roof.
The roof is a big item that comes up during home inspections, especially if leaks are found. Some buyers might call for a chimney inspection around this time too.
To get the most ROI, consider a metal roof. Compared to shingles, metal roofs have a longer life span and add curb appeal to the exterior.
Get the Most Out of Home Renovations

You want to sell your house at the highest price and shortest time possible. Doing some of the projects above will help you get the most out of your home renovation.
The goal of any remodeling project should be to add value to your home. You may not need to do every item on this list, but pick the item or items that are doable and knock them out.
If a kitchen or bathroom remodel isn't in your budget, you can always consider these weekend projects that boost home value too.
One last thing I would urge you to do is put your money into is a contractor that will do good, quality work.
Need more information on selling your home in Boone or the surrounding area? Give us a call! 828-386-6047