The warm weather is slowly arriving here in the High Country, but soon enough! The spring and summer brings alive a low-humidity, temperate-weathered paradise perfect for outdoor adventures.
The High Country of North Carolina is home to Price Lake, the Watauga River, the New River and is close to Watauga Lake! If you're visiting the High Country of North Carolina for the first time, getting on the water is definitely something you need to do during your time in Boone.
4 Must Try Water Sports in the NC Mountains
Boone and the North Carolina Mountains offer many water sports you need to try. From easy going floats, to challenging adventures, the waterways of the Appalachian Mountains has a water activity for everyone. Here are several must-do activities on the water near Boone you have to try!
#1: Fly Fish the High Country with Local Guides
If you're looking for a unique fishing experience, the High Country can provide that for you! Fly fishing with a local guide in the High Country is a great way to explore nature and get outside on the water.
Fly fishing is a method that uses a light-weight lure to catch fish (typically trout in this area). It isn't too difficult to learn either! This is also a water activity that can be enjoyed throughout the year!
Recommended Fly Fishing Guides in Boone
In Boone, there are plenty of fishing guides that can help you along the way. We recommend checking out High Country Guide Service located in downtown Boone. Our very own, Susan Stelling, has personal connections to the guide service as her husband is the owner.
High Country Guide Service offers customized fly fishing charters taking you to wild, native trout streams off the beaten path. Each fly fishing trip is lead by an experienced guide who knows the patterns of local hatcheries, wild streams, and delayed harvests.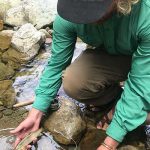 Don't worry about bringing your own gear for these excursions! High Country Guide Service's charters come with free equipment for you to use – down to the waders.
If you're looking for a complete, back-to-nature fly fishing experience, HCGS' hike-in glamping trout trip in Pisgah National Forest might be for you! Overnight camping in Pisgah National Forest is by Special Permit Use only.
Working with a fly fishing guide can get you exclusive experiences on the water. Other fly fishing guides you can also check out include:
Due South Outfitters
Tolliver's Guide Service
Boone's Fly Shop
MountainBound Fly Guides
Elk Creek Outfitters
#2: Visit a Good Ole-Fashioned Swimming Hole
During my time at Appalachian State University, my favorite way to celebrate the end of the spring semester was a trip to a local swimming hole with friends.
Some swimming holes require a long trail. If you're looking for a decent hike and a swim, Crab Orchard Trail is a really great option.  If you're not ready to break a sweat walking before your swim, there are other swimming holes that only take a short walk to get to.
Here are a list of some favorite spots:
The New Hole
Trash Can Falls
Snake Pit
Gragg Pong
Compression Falls
Hebron Rock Colony
Swimming holes are always good dog-friendly activity options too! We recommend The Watauga River in Valle Crucis Community Park if you're looking for the perfect place for you and your dog to frolic in the water.
Boone NC Info has more information on swimming holes that you can check out to better plan your outside swim.
#3: Float Away While River Tubing
River tubing is a great activity for those looking to take a few hours to sit back and relax. Tubing trips can last anywhere from two to three hours. Some adventure companies even rent Cooler Tubes to keep snacks and drinks in for the ride.
There are several different spots to river tube down, but one of my favorite places is on the New River. Did you know? The New River is one of the oldest rivers in the world! It begins in Ashe County and flows through Virginia into West Virginia. Uniquely, it flows from south to north.
Check out these places to get started on your river tubing adventure:
High Mountain Expeditions
Wahoo's Adventures
River and Earth Adventures
#4: Try Canoeing, Kayaking or Paddle Boarding
One of my favorite water sports is paddle boarding! It can be a little difficult at first, but it's super fun. I've even done paddle board yoga. For just a small rental fee, there are plenty of places you to rent canoes, kayaks, and paddle boards for fun out on the water.
Price Lake
Edge of the World Whitewater Rafting and Climbing
RiverGirl Fishing Co.
High Mountain Expeditions
Wahoo's Adventures
There are endless ways to get outside this summer and enjoy all the activities on the water that Boone has to offer. Check out these Waterfront Properties available in the High Country of North Carolina that can keep you on the water every day!