There's a lot going on in the up-and-coming East Side of Boone. The developing area is the future home of a new Town of Boone Complex at Brookshire Park!
Things to Do on the East Side
Local Businesses to Support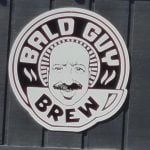 Many businesses moved or are starting up on the East Side of Boone. New businesses can join local favorite, Cheap Joe's Art Stuff, established in 1987 in a drug store and now located in the heart of East Boone! Charleston Forge started up in 1974 and has since evolved into an East Boone beautiful furniture manufacturer. Boone's local, award winning newspaper, the Watauga Democrat has called this place home for over 100 years!
Joining these long-time business pillars of the community are newer establishments like Booneshine Brewery's new 9000+ sq.ft. facility adding another 150 barrels of fermentation space to their prior location near the Boone Mall. Booneshine boasts a line of original brews, great food, a super fun atmosphere and indoor-outdoor seating to take advantage of our mountain air!  Also newer to the east side are local coffee roasters– Hatchet Coffee and Bald Guy Brew, and Center 45's Climbing and Fitness Center.
Nature to Explore
In addition to local businesses, there's lots to do on the East Side! Rocky Knob Mountain Biking Park is a 185-acre park offering 10 miles of bike trails for different levels.  Brookshire Park offers soccer fields, large picnic pavilions and a .42 m paved track that takes you alongside the New River. Speaking of the New River, you can fish, tube or kayak your way along the New's South Fork on the East Side of Boone! 
Expected Growth with the East Boone Connector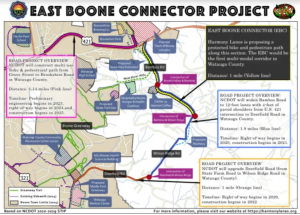 In the spring of 2019, the NCDOT announced that the East Boone Connector multi-modal path has been added to their plan for that side of town.  The East Boone Connector will run on the west side of Bamboo Rd. from US 421 to the Wilson's Ridge intersection and will be the first on-street protected multi-modal path in Boone.  It will allow pedestrians and cyclists to access the Boone Greenway, services like the Hospitality House and businesses like the afore mentioned Center 45 climbing gym and Hatchet Coffee at Bamboo Rd., the future town complex at Brookshire Park, the future Grove Street connector greenway, and Rocky Knob Mountain Bike Park.
Homes For Sale in East Boone
Want to live near the action that East Boone has to offer?  There are plenty of beautiful neighborhoods and homes in the area that are ready for you to buy! Don't believe us? Check out 170 Stirrup Lane, a 3 Bedroom, 4 Bath home in walking distance to Brookshire Park, Booneshine Brewery and all of the amenities listed above.  Call Corrinne Loucks to view this beautifully remodeled home today at 828-773-1615.
We're sorry, but we couldn't find MLS # 222310 in our database. This property may be a new listing or possibly taken off the market. Please check back again.