Well, well, well. If your property hunt in the High Country has led you to the often times unfamiliar realm of wells, you are not alone. Unless you are in an immediate downtown district of one our small towns, most houses or lots will be dependent on a private or shared well for water access. Well systems in the High Country are similar to septic systems. Most of the wells in our region are privately maintained.
In the High Country, most of these wells are drilled wells, which are "constructed by percussion or rotary-drilling machines… and have a lower risk of contamination due to their depth and use of continuous casing" (Learn About Private Water Wells). Well placement is extremely important, to avoid contamination and to adhere to health department requirements, such as distance from fuel tanks, right of ways, wetlands or other things that could affect groundwater quality. If your property does not yet have a well, you will apply through health department. In this application, you will have to indicate that your proposed well site fits all of the above criteria.
In the High Country, to get access to the fresh mountain water, wells are drilled through a plethora of rock types including gneiss,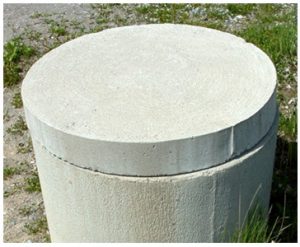 phyllite, igneous, schist and quartzite (Huffman, et al). Once the well has been drilled, a tube shaped casing (most often made of steel or plastic) is installed, with screens and pumps to filter and direct the water to the surface. You are not always guaranteed to hit water and this can be a frustrating and costly process. According to a 2008 study on nearly 1,500 wells in Avery and Watauga counties, the minimum well depth was 20 feet, the average depth was 300 feet and the maximum was 1,204 feet deep. That is a huge level of variance and as you can imagine, there's a huge level of cost variance associated with this. There's also a huge difference in possible yield for gallons per minute that these wells produce, from 0 to 400. Long story short, not all wells are created equal so expect that you may need a lot of flexibility when attempting to get a well drilled and operational.
Once your well is installed, responsible ownership includes maintaining a well cap (to prevent all manners of environmental contaminants), maintain your well with regular testing and inspections (roughly every 10 years according to the National Ground Water Association), and conserving water. Water conservation will save you money in operating costs and ensure your water supply remains safe and plentiful.
Find more information on App Healthcare's private well program and application process.