Exploring the High Country never gets old! Yesterday my son took me on a trail on Beech Mountain that I had never hiked before. Even though I have lived in the High Country for 26 years, there is still so much that I haven't seen or discovered! Lower Pond Creek Trail was definitely worth waiting for.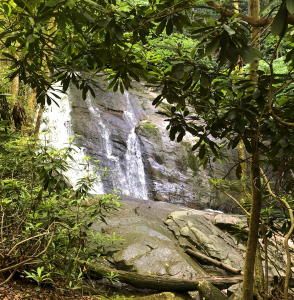 Lower Pond Creek Trail is a 1.2 mile in and out trail located on Beech Mountain, near Banner Elk, North Carolina. From the beginning, the trail leads downhill so coming back is an uphill climb. The hike is rated as moderate to difficult because it can be a little tricky since the path is made up of mostly roots and rocks. Good sturdy hiking shoes will help especially after it rains when the trail can become slippery in places.  The trail is primarily used for hiking, walking, and nature trips. Pond Creek is designated as a wild catch and release stream.
The beginning of our trek was not much different than some of the other trails I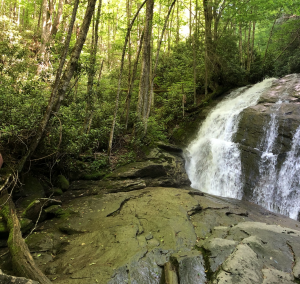 have been on before, but I soon felt like I was in an enchanted forest with a canopy of lush green Rhododendron lining the path with a full stream running along beside us. As we continued, the trail became a little tricky with roots and rocks providing "natural steps" leading down to even more beautiful views of Pond Creek. Water cascading over and between brilliant green moss-covered rocks and trees led to huge boulders as the framework for beautiful effervescing waterfalls.
The waterfalls weren't the only highlight of our hike, the fresh waters pooling into "ponds" was so clear we could catch glimpses of Native Brook Trout gliding through the waters with their iridescent colors. After finishing the Lower Pond Creek Trail hike with all of nature's beauty, I voted this as one of my favorites!
Other Attractions Near Beech Mountain
Lower Pond Creek Trail is located on Lakeledge Rd off of Beech Mountain Parkway at Lake Coffey. Other attractions nearby are Coffey Lake, Buckeye Lake and Buckeye Recreation Center, Beech Mountain Ski Resort and Emerald Outback at Beech Mountain. Beech Mountain Ski Resort is an area ski resort offering snow-skiing, snowboarding, ice skating, mountain biking and outdoor concerts. Emerald Outback is open year-round for hiking, trail running and mountain biking.
Lake Coffey is great for fishing, as well as, a scenic 1/8-mile walking or hiking course that wraps around the lake. Buckeye Lake is located beside the Buckeye Recreation Center, a 22,500 square foot facility that offers fitness rooms and indoor basketball, volleyball, and tennis courts, and is also a great spot for fishing. Both Lake Coffey and Buckeye Lake are stocked with trout by the NC Wildlife commission.
Hiking in the High Country of North Carolina
There's so many amazing places to hike in the High Country of North Carolina. If you're looking for more places to explore, check out our hiking guide or our latest experience hiking Crab Orchard Falls in Valle Crucis. The 828 Real Estate team is always here to give you more recommendations around the region. Don't hesitate to reach out, we're here to make your experience in the High Country the best it can be!