828 Real Estate is very excited to announce the installment of the Free Little Pantry in front of our office in Downtown Boone, North Carolina.
The Free Little Pantry provides a discreet way to share non-perishable food items and essential hygiene products like toothbrushes, toilet paper and toothpaste with community members in need. People are invited to, "Please take what you need, and share what you are able."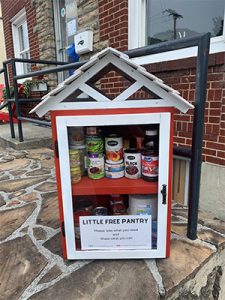 The idea of building a Free Little Pantry had been circulating around the office, and so I decided to take the lead on building it. My neighbor, Jody, was recruited since he had all the right skills and tools to assist. We used repurposed wood from my coworker Corrinne and a few random pieces Jody had lying around his garage.
It turned out to be beautiful! Everyone here at 828 Real Estate is always thinking of ways to involve our local community and how to positively impact it.
828 Real Estate asks the food be non-perishable (ex. Canned vegetables/meats, dry foods, baby food and bottled drinks) within its expiration date.
About Free Little Pantries
It's hard to pinpoint exactly when mini food pantries were invented, but the Little Free Pantry grassroots movement was started by Jessica McClard on May 2016 at Good Shepherd Lutheran Church in Fayetteville, Arkansas. She wanted to create a place to bring awareness to local food insecurity while also creating a space for neighbors to help neighbors food needs with no questions asked. The Little Free Pantry is not an organization or non-profit, it is simply a community movement.
Are you interested in starting your own Little Free Pantry? Location is everything! The box should be placed in a safe area for everyone, accessible to the public and close to sidewalks and public transportation.
There are plenty of YouTube tutorials and blueprints online, too!